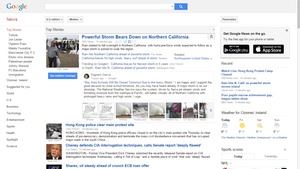 Large media outlets, local media sources and bloggers will be furious as a law about to come into force in Spain has pushed Google News out of the country.
Google News will remove Spanish publications from its service and will shut its Spanish site on Tuesday, December 16, and it's all the result of a misguided law that will come into force in Spain in the New Year.

After that point, Spanish media outlets will be forced to charge services like Google News for using even just snippets of information from their sources. Believe it or not, Spanish media outlets don't even have a choice not to charge these services, they are mandated to under the law.

Google can find no wiggle room to keep Google News operating in Spain and so it will shut the service there next week.

Google News - The best of intentions punished

Google News was actually born shortly after the 9/11 terrorist attacks in the United States. Krishna Bharat, a Google engineer, searched the term "World Trade Center" following the attacks and was shocked to find that the results didn't include any information on how the iconic skyscrapers were destroyed

That's how Google News came to be. It is a source of news information that now ranges from the world's largest media outlets, to local media and even to bloggers. It displays a headline, a small description (or the opening lines of an aritcle) and a thumbnail of the image associated with the article.

Google does not place advertisements on its Google News service and so generates no revenue directly from it, meaning that Google would be paying to essentially provide exposure to Spanish media outlets and making nothing in return.

The service has a total of 70 international editions, available in 35 languages, and now due to a very misguided law in Spain it will have to exit a European state.

Well done, Spanish lawmakers!