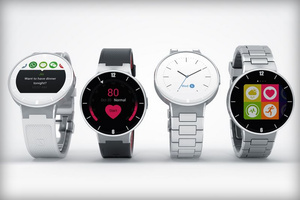 Alcatel OneTouch has announced the launch of their first smartwatch, a budget-friendly device that it will show off at the CES event next week.
The aptly named "Watch" will be circular, come with different straps, dozens of watch faces right out of the gate and include "apps that allow users to monitor daily activity."

Most notably, the company says the Watch will cost "a fraction" of the price that its competitors sell watches for, meaning the device will sell for under the $299 standard price of high-end devices like the Moto 360 (with metal straps) and most likely much less than the $349 base price for the Apple Watch.

While it remains unclear what specs power the device, it appears from the press photos that it does not run on Google's Android Wear platform but rather a proprietary operating system. We will know more on January 6th.