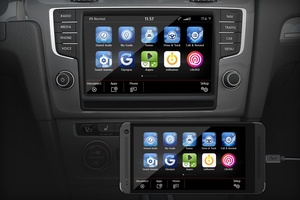 Massive car maker Volkswagen has announced that its cars will get Apple CarPlay and Android Auto later this year.
Announced today at CES, the company says the two user interfaces built for car dashboards will work with VW's MIB II dash devices. MIB II also adds support for MirrorLink, which adds better syncing support for smartphones by "integrating the apps and operating layout of numerous smartphones (including Samsung, HTC, LG and Sony) into cars."
Apple unveiled CarPlay last year, and VW was notably absent given their market share in the casual and luxury car markets.
"The two inventions of the century, the car and the computer, are gradually coming closer together. We need to design future mobility to be even more intelligent and even more networked,"
said Prof. Dr. Martin Winterkorn, CEO of Volkswagen AG.
The car company did not give an exact release date but did say MirrorLink, CarPlay, and Android Auto are all rolling out in the US and Europe later this year.
Source:
VW