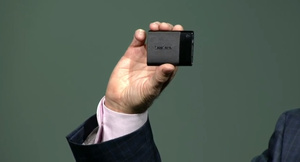 Samsung has announced a new portable SSD that is the size of a credit card and almost just as light.
The new T1 supports storage up to 1TB, has built-in security software and supports AES 256-bit data encryption giving it a leg up over other drives especially in regards to privacy.
At 2.1 x 2.8 x 0.36 inches and 0.9 ounces, the drive is tiny and can be carried around easily. Due to being an SSD, the T1 has a (sequential) transfer rate at 450 MB/s - impressive speeds.
Of course, speed, style and security in one package don't come cheap. The 250GB model will set you back $179, the 500GB model costs $299 and the 1TB model will lighten your wallet by $599. The drives start shipping on January 20th.
Source:
Mashable