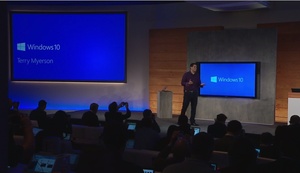 Microsoft announced today that Windows 10 will be available as a free upgrade for users of devices running Window 7, Windows 8 and Windows 8.1 for a time.
The announcement was made by Terry Myerson at an event showcasing Windows 10's consumer experience features to date. The next iteration of Microsoft's most popular product will be released later this year, projected for the fall, and will let Microsoft close the door on the Windows 8 era.

It's not clear how exactly the free upgrade will work for users running Windows 7, Windows 8 and Windows 8.1, but it will be limited to its first year of availability.

No doubt an upgrade will depend on hardware, and limited to verified genuine copies of Windows.