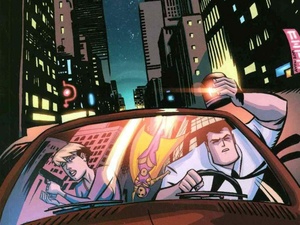 Sony has confirmed that their upcoming original series 'Powers' will be released exclusively on PlayStation on March 10th.
Powers "tells the story of homicide detectives Christian Walker and Deena Pilgrim, who are ordinary detectives working on cases that just so happen to involve people with extraordinary powers" and is based on the graphic novel of the same name.
Reads Sony's blog post:
Brian Michael Bendis here again, co-creator of the POWERS comic books and executive producer of the show, and I have some big updates from the set of POWERS, the first original live-action series for PlayStation Network. I'm happy to report that production has wrapped on all 10 episodes of POWERS. Under the skillful hands of our showrunners Charlie Huston and Remi Aubuchon, our amazing directors, writers, cast and crew, the episodes are coming together beautifully.

It is my honor and privilege to officially tell you that PlayStation will be releasing the first three episodes on March 10th followed by the debut of a new episode every Tuesday on PlayStation Store.



Stream the first episode for free on PlayStation Store or at playstation.com/powers and the full season will be available free to members of PlayStation Plus...which you should have already because it's awesome.