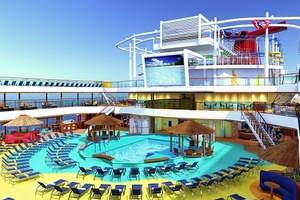 IMAX and massive cruise line operator Carnival have unveiled the "world's first IMAX Theatre on a ship."
The theater will be part of Carnival's new monster ship, the Carnival Vista. The ship will be ready to sail in March 2016, and is the largest in the fleet.
Both companies say the the ship features an "IMAX screen three decks high, providing guests with the most immersive cinematic experience. Guest will be able to take in the latest Hollywood blockbusters and IMAX documentaries."
Here's a few mocks of the ship and the IMAX display: