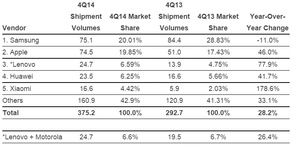 According to IDC, Apple narrowly missed out on becoming the world's top smartphone maker in the Q4 following its record quarter of 74.5 million iPhones sold.
Samsung shipped 75.1 million smartphones for the quarter, good for 20.01 percent market share, beating out Apple at 19.85 percent. Compared to the same quarter last year, Samsung's shipments declined 11 percent compared to Apple whose growth was up 46 percent. The rest of the top five also saw major growth.
Lenovo/Motorola shipped 24.7 million, good for 6.59 percent share and 77.9 percent growth, followed by Huawei in fourth place with 23.5 million units shipped for the quarter. Xiaomi has insane 178.6 percent year-over-year growth, as it took fifth place.
In total, 375.2 million smartphones shipped for the month, 28.2 percent growth for the industry.
"Most of the industry expected an extremely strong holiday quarter from Apple, especially with regards to the iPhone. However, worldwide shipments of 74.5 million units beat everyone's expectations,"
said Ryan Reith, Program Director with IDC's Worldwide Quarterly Mobile Phone Tracker.
"Beyond the record-setting quarter, a few impressive things stand out with regard to Apple. First, at a time when average selling prices (ASPs) for smartphone are rapidly declining, Apple managed to increase its reported ASPs in the fourth quarter due to higher-cost new models. Second, the growth of iPhone sales in both the U.S., which is considered a saturated market, and China, which presents the dual challenges of strong local competitors and serious price sensitivity, were remarkable. Sustaining this growth and higher ASPs a year from now could prove challenging, but right now there is no question that Apple is leading the way."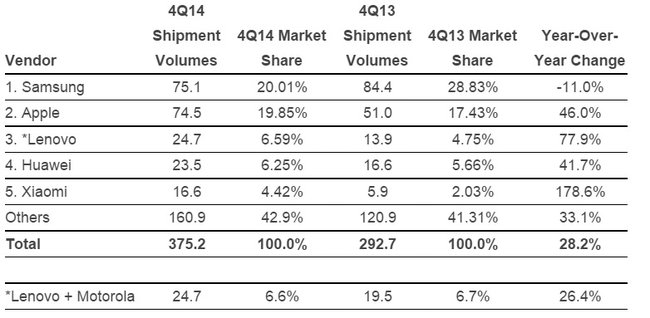 Source:
IDC