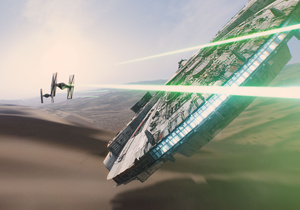 Disney Chairman and CEO Bob Iger has confirmed the release dates for the upcoming Star Wars Episodes VII-IX, delighting fans of the blockbuster franchise.
Following this years release of Episode VII, better known as Star Wars: The Force Awakens, Episodes VIII will hit theaters in December 2017 and Episode IX will be released in December, 2019.
Iger wrote in Disney's annual shareholder letter:
"As one of the few people allowed to visit the set during filming... and one of the fewer who's seen most of the footage... I can assure the millions of 'Star Wars' fans who have spent the last decade hoping for a new movie this one will be worth the wait. And it's only the beginning of a new era of exceptional 'Star Wars' storytelling; next year we'll release our first standalone movie based on these characters, followed by 'Star Wars: Episode VIII' in 2017, and we'll finish this trilogy with 'Episode IX' in 2019."
The Force Awakens is scheduled for release on December 18th, and there is little question that it will be a billion dollar hit. There are a few in the industry that believe it could even beat the original Star Wars' box office gross, which adjusted for inflation was $1.48 billion.
Check the teaser trailer here as we wait for the first real trailer in May:
Source:
TheWrap