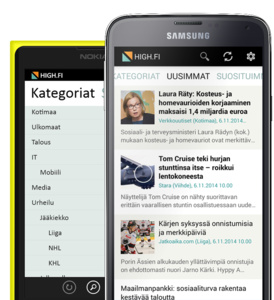 AfterDawn launched its first mobile app last year and today we'd like to thank users who have installed it, regularly use it and have provided excellent feedback.
While based in Northern Finland, AfterDawn has staff in a handful of countries and on multiple continents. We all speak English but most of the staff speaks multiple languages, and of course our services are provided in different languages too. One thing we all have in common though is a bit of an addiction to news content, primarily technology-related news, and every day links bounce back and forth across staff, many of which have been collected and added to "read later" lists that always grow longer and never shorten.
It seems natural then that the first time we decided to throw an app into the wild, it was a news app.
HIGH.FI
automatically pulls news headlines from hundreds of sources on all topics and allows you to very easily customize the type of news you want to see.
Thank you for 10,000 installs on Android!
It was first made available to Windows Phone 8 users in June 2014, and later became available for Android on September 9. Today, we realized that it has been installed
more than 10,000 times on Android devices
and there's more every hour, while it has
previously hit 7,500 on Windows Phone 8
.
We'd like to take this opportunity to express gratitude to those who have installed the app, those who use it every single day and especially
those users who have taken the time to provide feedback
. That feedback has been the driver behind many improvements to the app, and it's the reason why we have a long list of things we want to do with the app, while keeping it clean, speedy and useful. Thank YOU!
You can download the HIGH.FI app from Google Play or from the Windows Phone Store:
You can also use HIGH.FI on Desktop at
en.high.fi
, but if you want to experience it properly try the app too.
You can provide feedback do the developers and those adding sources / countries / languages at
en.high.fi/feedback
What does it look like?
Supported languages / Countries currently:
English (U.S.)
Dutch
Finnish
Swedish
Norwegian
Danish
Italian
Estonian
We are constantly improving the service to be better at delivering content from localized sources, and indeed to add more sources.
Again, thank you for those who have already installed it and checked it out. In a world filled with apps we genuinely appreciate the use, and especially the feedback so please continue to tell us what you like about it, what you think sucks, and anything you think we should hear. Submit your verdict to
en.high.fi/feedback