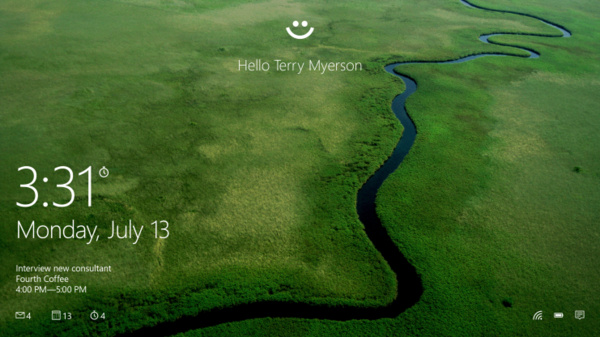 Microsoft has announced that Windows 10 is getting biometric authentication, including the ability to unlock your tablet, PC and smartphone with a finger, iris or face scan.
Dubbed 'Windows Hello,' the authentication of course will require the specialized hardware necessary for such scans "including a fingerprint reader, illuminated IR sensor or other biometric sensors." For the iris or facial recognition, Microsoft says software will accurately verify your identity and the company promises that using a picture or other image won't work. Infrared tech also ensures that even if it is dark out, you can be recognized.
Reads the
press release
:
"Windows Hello introduces system support for biometric authentication – using your face, iris, or fingerprint to unlock your devices – with technology that is much safer than traditional passwords. You– uniquely you– plus your device are the keys to your Windows experience, apps, data and even websites and services – not a random assortment of letters and numbers that are easily forgotten, hacked, or written down and pinned to a bulletin board. Modern sensors recognize your unique personal characteristics to sign-you-in on a supporting Windows 10 device.



Of course, convenience and simplicity should never sacrifice security and privacy. Windows Hello offers enterprise-grade security that will meet the requirements of organizations with some of the strictest requirements and regulations. It's a solution that government, defense, financial, health care and other related organizations will use to enhance their overall security, with a simple experience designed to delight."