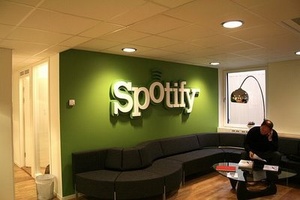 According to reports, Universal Music Group - the world's largest label, is pressuring Spotify to limit its free streaming service that is used by over 50 million people.
The label is starting to rethink the popular 'freemium' model of streaming services like Spotify, which offers access to tens of millions of songs for free, with limited ads.
UMG CEO Lucian Grainge even stated last month that "Ad-funded on-demand is not going to sustain the entire ecosystem of the creators as well as the investors." Grainge hopes that more restrictions on the free streaming will push consumers to purchase a premium subscription that costs $10 per month and gives unlimited ad-free music and mobile access.
New reports claim that it isn't just UMG who is pushing for some change. Sony and Warner are both said to be souring on freemium, but may not be pressuring Spotify currently.
Streaming brings billions in revenue, but it seems the labels want a better conversion rate to premium subscriptions.
Source:
Rolling Stone