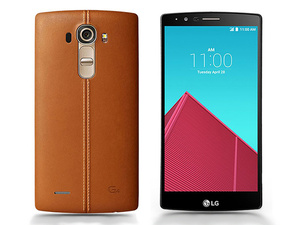 LG has officially unveiled its G4 flagship, and even though nearly every aspect of the phone had already been revealed or leaked in the previous two weeks, it is still nice to see the official hands-on and spec sheets.
The phone has a large 5.5-inch, 2560 x 1440 pixel (QHD) display, adds a bit of a curve (to help avoid shattering the screen if you drop it), is powered by a Qualcomm Snapdragon 808 processor, 3GB of RAM, 32GB of internal storage (microSD expandable), a 3,000mAh removable battery (no QuickCharging or wireless charging available however) and Android 5.1 with LG's own custom UI on top.

Notably, LG says its GPS nav and location services are "twice as accurate" as any other phone but that remains to be seen. Additionally, the company says it is removing lots of bloat, so the devices will seem almost like stock, and 100GB of free Google Drive storage is also included for 24 months.

Different from the G3 (and other devices) is that LG will offer a leather back plate and that the materials used are the same that go into luxury handbags but it is unclear how much a leather G4 will set you back.

The LG G4 is scheduled to reach all major U.S. carriers by the end of May.