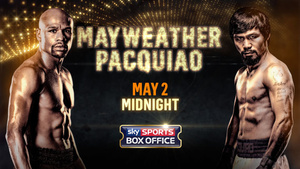 The most hotly anticipated boxing event in years is only hours away, but legal action against those who plan to stream the fight illegally is already underway.
Boxing fans have been waiting years for this event. Tonight in Las Vegas, Floyd Mayweather Jr. and Manny Pacquiao will step into the ring and end this argument once and for all, earning astronomical amounts of money each in the process. This PPV event surely will be lucrative.
Not everybody is willing to pay for something they can potentially see for free, however, and earlier this week HBO and ShowTime sought to launch pre-emptive strikes against sites that were planning to stream the fight to viewers for free.
In a complaint filed in a federal court in Florida, they accuse boxinghd.net and sportship.org of advertising the fight with the intent to stream it to fans for free, whilst they profit from advertisements.
"There are no authorized online streams of the Coverage for delivery to United States audiences,"
the complaint reads. It sought a temporary restraining order against the sites in order to protect the parties from irreparable damage.
It seems to have worked too, as BoxingHD removed references to the event and sportship.org is unreachable at the moment.
The illegal streaming of sports content such as live football matches, racing, boxing, UFC, WWE etc. has grown rapidly in recent years, ranging from websites with embedded flash streams of variable quality, to P2PTV-delivered Full HD streaming. In the coming years, we can expect to report more on efforts to fight this type of copyright infringement.
Source:
TorrentFreak