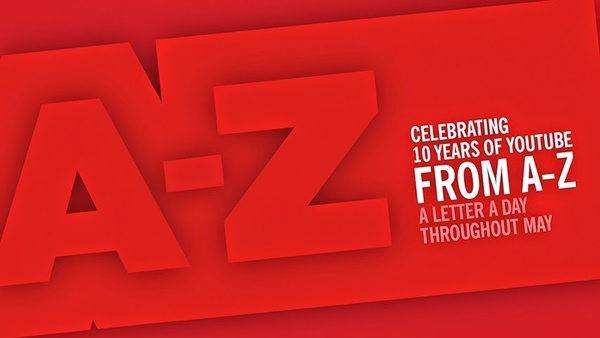 YouTube is celebrating its tenth birthday this month, and will celebrate the milestone by dipping into its vast collection of content for some of its most memorable moments.
As a reminder that we are all rapidly ageing with no relief in sight, YouTube will blast us with an A-Z selection of memorable content uploaded to the service over the past decade.
"Every day over the next 26 days, we'll take a look back at some of the most memorable moments, from the silly to the profound, that you've shared on YouTube in the last 10 years. It's YouTube from A to Z. Literally."
YouTube announced on its blog this week.
On April 23, 2005, the first ever video was uploaded to an largely-unknown private site called YouTube. The 18-second long clip showed elephants at the San Diego zoo. The next month, the little video project went into beta, and became available for use by the wider public later on that year.
Since then of course, YouTube was acquired by Google and has become a household name. It is consulted for almost all types of video content imaginable, from music videos, to comedy, to idiots faceplanting into the turf for our amusement, to conspiracy theories and almost anything else you can think of that isn't pornographic - although the latter has been known to get spammed to YouTube.
It worked because of its relative simplicity, the simple idea that you could upload a video of almost any video and audio formats, in any container, and it would produce a flash video that would work in most web browsers. That drive to make it an even simpler platform for publishers to use has continued from day one.
It should also be noted that YouTube survived attempts to reprimand it for copyright violations, including a $1 billion lawsuit, which could have prevented this iconic brand from ever reaching double digits.
You can follow YouTube's stroll down memory lane at the
YouTube Trends blog
.