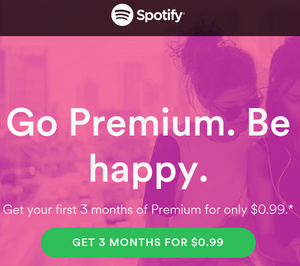 Spotify has brought back their popular introductory trial offer for Spotify Premium: 99 cents for three months of the service.
Spotify Premium normally costs $9.99 per month and offers higher bitrate tracks, no ads, and the ability to play music offline and on mobile devices.
There is some small print, however, as anybody who has ever used a trial offer before or are already subscribed to Premium or Unlimited (no ads, no mobile for $4.99) you are ineligible.
Check out the offer here:
Spotify Premium