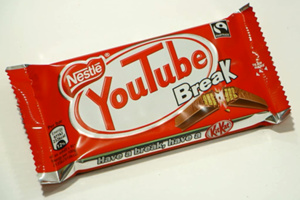 Google and NestlÚ have announced their new "YouTube My Break" campaign this week, turning 600,000 packs of KitKat candy bars into 'YouTube Break' bars.
Says NestlÚ:
"This forms one of 72 different types of 'breaks' to feature on more than 400 limited edition designs across 2 and 4 finger and Chunky bars as part of the campaign. More than 100 million of these specially designed packs will be produced in total over the course of the campaign."

Apparently, KitKat fans
are also YouTube fans
and the companies are using the campaign and
"Google's voice search technology to deliver the world's most entertaining videos straight to its customers' mobiles. Searching for "KitKat YouTube my break" on their phone, users will be introduced to a KITKAT video followed by a playlist of the latest top four trending YouTube videos anytime, anywhere worldwide."

The deal follows 2013's launch of Android 4.4 KitKat, which was originally set to be codenamed Key Lime Pie before the product deal was struck.
dwz