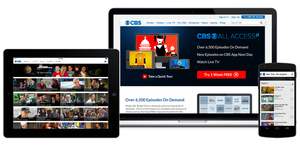 CBS's on-demand streaming service, All Access, now offers local and live TV feeds to over 60 percent of U.S. consumers.
The service launched last October and the live feeds were limited to just 14 CBS owned and operated stations in major metros like NY, LA and Chicago.
Since then, CBS has expanded to 12 additional affiliate stations in 56 markets. Today's announcement adds an extra 13 affiliates, and the total markets are now up to 94.
The service costs $5.99 per month and offers 7000 episodes of classic and new CBS programs that can be streamed through your browser, on Roku, via Chromecast and on dedicated Android and iOS apps.
Sadly, the service does not offer live streaming for football games, which would be a huge draw in America.
Source:
TechCrunch