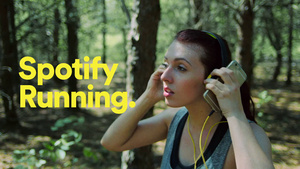 Spotify is broadening its content distribution platform to include support for podcasts and short videos as it stares down rapidly growing competition in the media delivery space.
It's not economically feasible to rely on the volatile music streaming business these days with so many vultures in flight. If you stagnate and stand still you will fade into irrelevancy in an unforgiving market and an every-changing, increasingly demanding digital entertainment space.
Spotify is taking no risks and is squaring up to services like Tidal by adding support for videos and podcasts to its service. It won't be offering what you'd consider
"full length episodes"
in video, instead subscribers will have access to short videos around 10 minutes or shorter.
With commuters in mind, audio-only streams from video content will also be supported.
Spotify will of course make suggestions of what videos or podcasts you might like, just as it does with music, and content from the likes of ABC, BBC, Comedy Central, Condé Nast Entertainment, ESPN, Fusion, Maker Studios, NBC, TED and Vice Media will be available.
Also announced today is Spotify Running (video below) for those who listen to music when they go for a run. It will match your running tempo (BPM etc.) to music specifically selected for running activity, delivering music in time with your step. Some original tracks will also be available (six at launch).