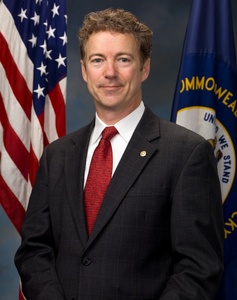 U.S. Senator Rand Paul is currently trying to block the renewal of PATRIOT Act provisions related to the mass collection of phone records in the United States.
The Republican is currently holding the U.S. Senate floor and speaking about the mass collection of telephone call records and other activities in the union. Under the rules, Paul can speak until midnight, which is when a new legislative day will commence.
Paul's twitter account and news outlets are reporting the senator's activity as a filibuster, which is not entirely accurate since he is not actually delaying consideration of a bill. Nevertheless, Paul is using his time on the floor to talk about why it's time to
"end NSA spying"
.
I've just taken the senate floor to begin a filibuster of the Patriot Act renewal. It's time to end the NSA spying!

-- Dr. Rand Paul (@RandPaul) May 20, 2015
On June 1, provisions of the controversial U.S. PATRIOT Act (Uniting and Strengthening America by Providing Appropriate Tools Required to Intercept and Obstruct Terrorism Act of 2001) will expire. Those provisions are referenced to justify the mass collection of data related to phone calls inside the United States.
Rand Paul, a self-described libertarian, opposes government spying on citizens and would like to see the provisions expire. However, others in the Senate, including Republican Majority Leader Mitch McConnell, favor renewal and find the surveillance activity essential to homeland security, so Paul's attempts may well turn out to be symbolic in nature.
On Twitter,
#standwithrand
is currently trending and users are tweeting pictures of themselves with devices showing Rand on the Senate floor.
The U.S. House of Representatives overwhelmingly approved (338-88) the USA Freedom Act last week which would end mass data collection and replace it with a more targeted system, and McConnell doesn't intend to block a Senate vote on the legislation.
Rand Paul is also seeking the Republican nomination for President of the United States as the
"Grand Old Party"
seeks to retake the White House having lost four of the last six presidential elections.