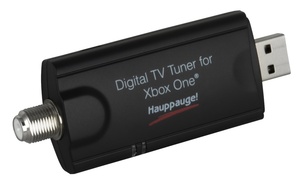 Xbox One gets broadcast TV with an Hauppauge Over-The-Air TV Tuner, delivering subscription-free live TV, 30 minute live TV pause and TV streaming to other devices using the Xbox App on Windows 10.
Redmond's plan to turn the Xbox One into the living room's favorite entertainment hub advanced today with the announcement of an Hauppauge Over-The-Air TV Tuner that will cost $60 for U.S. and Canadian customers. With the tuner, the console can access local broadcast networks and use the live TV content in many different ways.
Users can view live TV on one side of their screen while continuing to game for example, or if you need to go grab something to eat the Xbox One can pause live TV up to 30 minutes. Additionally, live TV can be streamed to other devices in the home either using the Xbox One SmartGlass app on Windows, Windows Phone, iOS and Android, or the Xbox App on Windows 10 (uninterrupted by gaming activity on Xbox One).
If you are interested in getting the TV Tuner for Xbox One, you should remember that you will also need a HDTV antenna to use with it. Microsoft Stores (including
microsoftstore.com
and brick and mortar locations) will sell a $99 bundle that includes a Hauppauge Digital TV Tuner for Xbox One and a Mohu Leaf 50 antenna, saving you about $30.
If you have your own antenna then you should be good to go, but make sure to check out
gomohu.com/xbox
to check what channels are available in your area, and to figure out what antenna suits your needs best.
Here's a video from Major Nelson (Larry Hryb) on setting up the tuner and antenna with Xbox One.