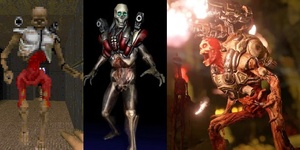 Eleven years after the release of Doom 3, we have the first very brief teaser trailer of the upcoming 'Doom' sequel.
Publisher Bethesda has confirmed a gameplay reveal at their E3 showcase on June 14th.

The trailer reveals little about the game, but we do get to see the super shotgun and a Revenant demon with its gun backpack.

'Doom 4' or whatever it will be called, was first announced in 2008, but clearly development has been delayed.