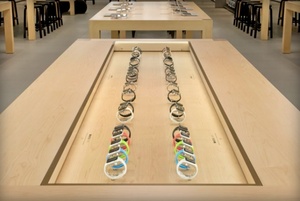 According to a new report, Apple is making huge margins on the bands for the Apple smartwatch.
Citing data from Slice Intelligence, a research firm that mines data from your email receipts, it is estimated that 2.79 million watches have been sold as of mid-June. The figure is significant compared to other smartwatches, but won't even make a mark compared to Apple's other cash cows.
Besides buyers buying the watch, it also appears there are strong sales of additional bands. The entry-level sports band retails for $49 at 38mm, but only costs $2 to make (as per IHS). Even if you take into account R&D, shipping and other costs, Apple is looking at 70 percent margins on the bands.
Slice estimates about 17-20 percent of shoppers have purchased multiple bands and the $149 Milanese loop is the second-most popular behind the cheaper Sports option. The most expensive band will set you back $449, which can double the price of your device.
Source:
Reuters