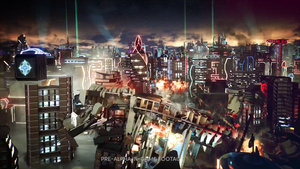 In this first look at Crackdown 3 we are shown a virtual environment vulnerable to total destruction at the player's will!
Microsoft and developer ReAgent gave a first glimpse of Crackdown 3 at Gamescom 2015 earlier today, in which we can see entire buildings being demolished and causing considerable destruction to their surroundings. The game will feature 100 percent destructible environments, we are told.

The demo shown today included pre-alpha in-game footage, with a 2016 release schedule still the goal.

Give the video from Gamescon a view.