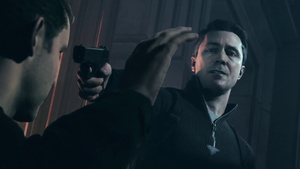 From the developers of Max Payne and Alan Wake, Quantum Break will arrive on April 5, 2016 and features a star-studded cast.
Quantum Break is part video game, part in-game live-action show, where your in-game choices will affect the outcome of the fast-paced fusion between game and show,
"illustrating one story perceived in many ways for a completely unique entertainment experience."
It is being developed by Remedy Entertainment (Max Payne, Alan Wake) and published by Microsoft Studios, and set around a time travel experiment that has gone horribly wrong forcing time itself to break down. The story's three main characters (Jack Joyce, Beth Wilder, and Paul Serene) gain some time manipulation abilities.
It is broken up into segments of gameplay that are followed by an episode of the show.
Quantum Break features a really impressive cast that you will recognize instantly from TV shows:
Shawn Ashmore ("X-Men: Days of Future Past") as Jack Joyce
Dominic Monaghan ("Lost") as William Joyce
Aidan Gillen ("Game of Thrones") as Paul Serene
Lance Reddick ("Fringe") as Martin Hatch
Marshall Allman ("True Blood") as Charlie Wincott
Patrick Heusinger ("Black Swan") as Liam Burke
Mimi Michaels ("The Ugly Truth") as Fiona Miller
Amelia Rose Blaire ("True Blood") as Amy Ferraro
Brooke Nevin as Emily Burke
Courtney Hope as Beth Wilder
Jacqueline Pinol as Sofia Amaral
Jeannie Bolet as Kate Ogawa
Sean Durrie as Nick Marsters
Check out the Quantum Break - Time Is Power trailer: