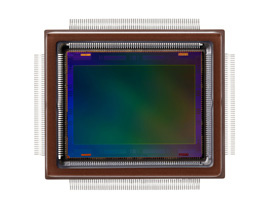 Camera giant Canon has announced this week a 250 megapixel CMOS sensor that sets the record for highest resolution at its size.
The AOS-H CMOS sensor offers resolution of 19,580 x 12,600, and Canon's APS-H sensors were used in EOS-1D DSLRs not too long ago so the sensor is incredibly relevant even though the smaller APS-C is used now in current cameras.

"When installed in a camera, the newly developed sensor was able to capture images enabling the distinguishing of lettering on the side of an airplane flying at a distance of approximately 18 km from the shooting location,"
reads Canon's press release, an incredible feat.
Furthermore, "the new Canon-developed CMOS sensor, however, despite its exceptionally high pixel count, achieves an ultra-high signal readout speed of 1.25 billion pixels per second, made possible through such advancements as circuit miniaturization and enhanced signal-processing technology."
If you were looking for the sensor in your next DLSR or smartphone - keep waiting. Canon is looking for applications in "specialized surveillance and crime prevention tools, ultra-high-resolution measuring instruments and other industrial equipment, and the field of visual expression."
Source:
Canon