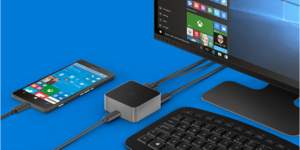 Microsoft announced its long-rumored Lumia 950 and 950 XL yesterday, and with the new phones came the Display Dock, a hardware adapter that allows you to convert your phone into a PC.
The adapter lets you connect a monitor, keyboard and PC, and has three ports including a USB Type-C, HDMI and DisplayPort.
You must install the Continuum app on your phone to be able to use it, and the phone will power a Windows 10-esque operating system that runs universal Windows 10 apps rather than a full desktop experience.
Source:
Microsoft