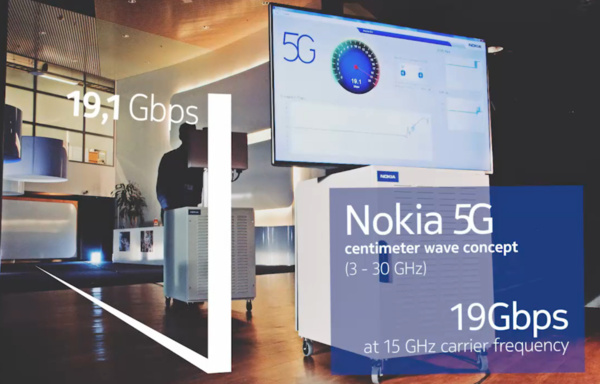 SK Telecom is the Korea's largest mobile operator and aims to be the world's first 5G carrier. Nokia on the other hand aims to be the technology provider, and after recent tests it seems likelier than ever.
Nokia and SK Telecom demonstrated a new wireless 5G connection that was able to peak transfer speeds at 19.1 gigabits per second. If one movie would be 2 megabytes the connection would be able to optimally transfer that in less than a second.
The cmWave technology by Nokia uses 8x8 MIMO (multiple-input and multiple-output) transmission, 256 QAM modulation and 400 MHz bandwidth. The cmWave gets its name from the wavelength that the 3 to 30 GHz frequency range bands translate to – 1 to 10 centimeters. The test was done in 15Ghz average frequency.
The companies tell that this is the first time centimeter waves achieve such results. Previously millimeter waves have been used. Nokia says that it is likely that the commercial bands in the future will use centimeter wavelengths and fall in the frequency range.
The two have been in close cooperation this year and in addition to 5G techonologies they've introduces improvements to LTE speeds and LTE Advanced techonologies.
You can find more information about the Nokia cmWave 5G
here
.