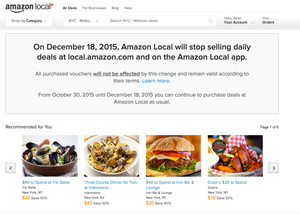 Amazon has announced that it is exiting the daily deals business, effective December 18th.
On that date, Amazon will stop selling the deals completely, including through the Amazon Local app, but any deals purchased before the shutdown will still be usable and supported.
Overall, the entire daily deal space is struggling. Market leader Groupon, once valued at $16 billion, now has a market value of just $2.4 billion and laid off 1100 employees just two months ago. LivingSocial also just laid off 20 percent of its workforce.
Amazon closed Amazon Destinations earlier this month, a service that let Amazon users find deals on hotels within range of their current location. It seems pretty clear that both Destinations and Local were not seeing the revenue Amazon had expected.
For their part, Amazon only left consumers with a vague message:
"We've learned a great deal from the daily deals business and will look for ways to apply these lessons in the future as we continue to innovate on behalf of our customers and merchants."
Source:
TC