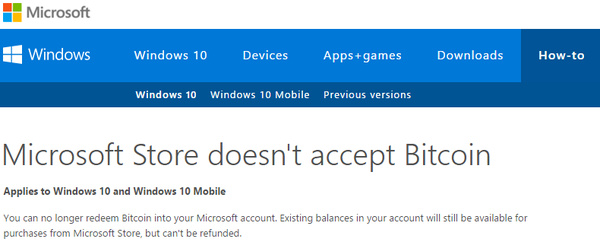 Despite an item that was posted to their own FAQ website, Microsoft has confirmed that they still accept Bitcoin as a payment option for its gaming and mobile content.
Last week, a post titled "Microsoft Store doesn't accept Bitcoin" was published, suggesting that the company was indeed ending support for the digital currency.
Microsoft has since called the post a mistake:
"We continue to support Bitcoin for adding money to your Microsoft Account which can be used for purchasing content in the Windows and Xbox stores. We apologize for inaccurate information that was inadvertently posted to a Microsoft site, which is currently being corrected."
It's unclear how such a post made it past editing, but for the time being, you can continue to pay with Bitcoin.
Source:
VB