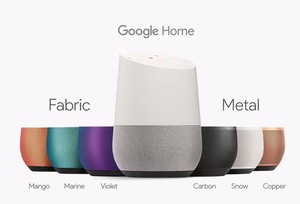 Google completed their assault on Amazon yesterday, launching the Echo-rivaling Google Home.
The device was first teased at I/O earlier this year and the voice-activated personal assistant is now available for pre-order.
Shipping November 4th, Home is $129 and comes with a six-month trial to YouTube Red (normally $10 per month). The Home is a wireless speaker with microphones that allow for voice commands such as "Google, what is the weather today," or "Google, please read my calendar for today." Google Home also works with existing Nest, Phillips, Samsung and IFTTT smart home devices.
Because Google really wants their devices to blend in with your home, there are multiple "fabric" and "metal" options in different colors so that the Home can match your home's aesthetics.
Check out the device here:
Google Home