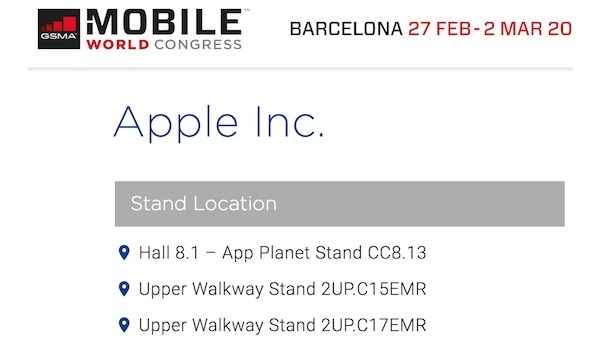 The mobile industry's own trade show in Barcelona packs the most influential manufacturer's and developers every year but there's always at least one major name missing every year – Apple. The Cupertino giant has never attended the show, at least not with their own booth, but this is about to change, reports suggest.
According to a leak published by
MacRumors
Apple is listed as an exhibitor for he next years Mobile World Congress. Held in Feb 27 through March 2, the MWC 2017 seems to be the first trade show Apple is willing to give a pass in a long while.
After the information came public Apple's name was removed from the exhibitors list. It is unlikely however that this was a mistake or that Apple cancelled after the information was leaked to the public. It probably was intended as a surprise that unfortunately for the company didn't last because of a human (or computer) error.
The listing has it that Apple would be located in the App Planet in Hall 8.1 which suggests that we might hear more about the Planet of Apps television series and/or App Store updates. It's unlikely that we'll see any major product launches (or maybe an iPad?), as even most of the other manufacturers have decreased the number of significant launches at MWC.