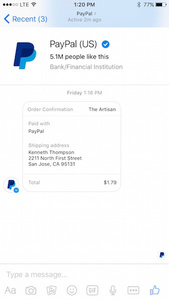 The popular Facebook Messenger service will be adding PayPal payment support in the coming weeks, an expansion to the current debit card payment option.
Facebook Messenger has 1 billion users, so PayPal has huge potential in working with the tech giant. The company recently signed partnerships with MasterCard, Visa, Vodafone, and Alibaba, as well.
For now, the PayPal functionality is only available to some users in the U.S., but that will expand over time.
"This collaboration continues to showcase our march to be a customer champion,"
says Bill Ready, EVP and chief operating officer at PayPal.
"We will continue to execute on our vision of offering PayPal in more places where people shop online, in app and in store by partnering with companies who share our desire to create meaningful products that benefit both consumers and merchants."
Source:
VB