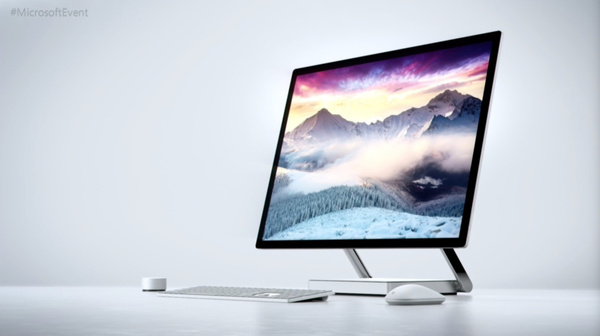 Microsoft used their special event yesterday to unveil a handful of new products and features, with the most promising being the Surface Studio all-in-one PC.
The PC has a 28-inch PixelSense display (4500 x 3000 (192 DPI)), a 3:2 display ratio, 6th gen Intel Core i5 or i7 processors, up to a 2TB HD/SSD combo, up to 32GB RAM and up to a 4GB GeForce GPU. The AIO also has integrated 2.1 speakers, a flexible hinge that allows you to draw and video edit more easily, and has a haptic feedback controller device.
For ports, the Studio has four USB 3.0 ports, Ethernet, Audio, SD, Mini DisplayPort. Microsoft also promises the display is the thinnest ever in an AIO.
With its incredible specs and form factor comes an astronomical price -$2999 for the base model and up to $4200 for the top model.
Head over to the
Microsoft store to check out some interactive features
of the AIO, or you can demo it at a physical Microsoft Store.