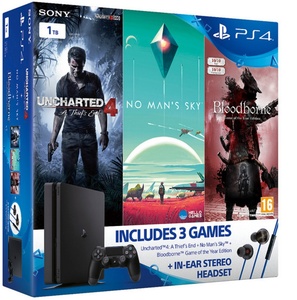 Sony has announced three new PS4 bundles for the EU market, each including Uncharted 4 and a 1TB HDD.
The first bundle includes the critically acclaimed titles Driveclub and The Last of Us: Remastered. The second is aimed more at kids and family and includes a 1TB PS4, Uncharted 4, Driveclub and Ratchet & Clank.
Finally, and what I assume will be the most popular of the bundles, "combines adventure, gothic horror and sci-fi exploration with our bundle that offers a 1TB PlayStation, Uncharted 4, Bloodborne Game of the Year Edition and No Man's Sky." That bundle also comes with an in-ear headset.
Source:
Playstation Blog