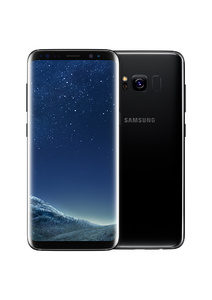 Samsung came roaring back in the smartphone market yesterday when it pulled the curtain back on the hotly-anticipated Galaxy S8 handsets.
Having been bruised last year by an unfortunate defect with the Galaxy Note 7 resulting in several fires and a global recall, Samsung needed to hit the right notes with the Galaxy S8. It seems fair to say that the South Korean firm has delivered.
Much of the rumored features of the GS8 and GS8+ models materialized, including a larger curved screen, the lack of a previously ever-present physical Home button and Samsung logo, rear-mounted fingerprint scanner, and the inclusion of the Bixby virtual assistant. The water-resistant and dust-resistant handsets are more aesthetically pretty than the leaked images suggested though.
Visually dominating each device are the curved Super AMOLED displays - 5.8-inch on GS8 and 6.2-inch on the GS8+ - which are brighter than their predecessors and support displaying high dynamic range (HDR) video. The Quad HD+ resolution (2960x1440) displays stretch the aspect ratio compared to the GS7 handsets and accommodate two apps side-by-side.
Replacing the physical Home button is an on-screen icon, which sits atop a pressure sensor and vibration module for control and feedback. Both GS8 handsets pack a 12Megapixel camera on the back with a f/1.7 aperture, very similar to the GS7 handsets, however the cameras produce better photos by snapping additional frames and using the extra data to improve sharpness and contrast of the resulting image.
The front-facing camera has improved since the predecessor handsets with an 8 megapixel sensor, autofocus and ability to shoot better wide-angle selfies. Users can also apply silly effects and filters to their photos.
Under the Hood
Both GS8 handsets sold in the United States will pack a Snapdragon 835 chipset from Qualcomm. For non-US models, the SG8 handsets will instead use Samsung's own octa-core Exynos chips. Both come with 4GB of RAM and 64GB internal storage, expandable by 256GB via a microSD slot.
It is also notable that the GS8 handsets are the first to support the Bluetooth 5.0 standard, promising significant improvements over Bluetooth 4.2. However, it should be remembered that there won't be any improvement when pairing with non-5.0 devices, and right now the market is devoid of Bluetooth 5.0 hardware.
As previously mentioned, the device sports a fingerprint scanner located to the right of the camera lens on the rear of the handset, but an Iris scanner can also be used for identification purposes.
Also, yes, there is a standard headphone jack!
Considering the global story that was the failure of the Galaxy Note 7 batteries, there was considerable interest in what battery improvements to expect in the GS8 handsets. The answer is that there are none; the GS8 features a 3,000mAh battery, while GS8+ has 3,500mAh battery.
Samsung's Virtual Assistant - Bixby
As rumored, Samsung has made a big move in the current virtual AI wars by building Bixby into the GS8 handsets. Bixby is your typical virtual assistant with some interesting capabilities and Samsung has promised it will improve as time goes on.
You can summon Bixby on the GS8 with a voice command or by tapping a dedicated button on the left of the device. Samsung hopes that users will be able to control their devices as easily with voice commands to Bixby as they would by physically tapping the screen but it will take time for Bixby to improve.
Bixby is impressive as it is now in some ways though. It is able to recognise things like products and landmarks and will integrate with apps to make use of its Vision. For example, it can recognise things and then find a place where you can buy them, such as books or electronic devices.
Samsung's virtual assistant is available from the lock screen too, and over time will learn your behavior to be able to make smart suggestions on what you may be planning to do (such as making a regular phone call).
Extras - Virtual Reality, DeX dock & Samsung Connect
Additionally, Samsung has announced a revamped virtual reality headset with its own motion sensing controller and a new 360-degree camera promising higher quality.
A new Dex dock also enables you to use your phone as a home PC. When docked, it can link your handset with a monitor, keyboard and mouse, offering you an Android-based Desktop PC environment.
For those interested in controlling the ever-increasing number of smart home devices, the GS8 features Samsung Connect, which can control smart home appliances from Samsung and third party appliances that are SmartThings-compliant.
Pricing and Availability
Unfortunately we're not currently able to estimate a price in the U.S. market, but the
BBC reports
the price of an GS8 at £690 and the GS8+ at £780. I'm also reliably informed by AfterDawn's Finnish staff that the GS8 starting price is 829eur in Finland while the GS8+ will cost Finns 929eur.
Samsung's Galaxy S8 and Galaxy S8+ will be available from April 21.