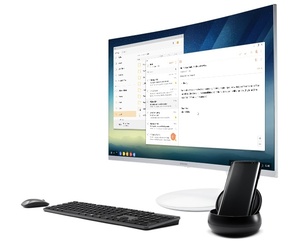 Samsung unveiled its DeX Station dock for its new Galaxy S8 and Galaxy S8+ handsets allowing you to connect your device to a monitor, keyboard and mouse.
Mobile devices have long passed a point where the hardware under the hood is more than capable of driving a desktop PC environment and there have been numerous attempts at bringing seamless solutions to the market. Samsung is in the ring with the Samsung DeX service, which turns a Samsung Galaxy S8 or S8+ into a mobile PC.

Using the DeX Station dock, users can connect a 16:9 ratio monitor to their handset via a HDMI cable. A keyboard and mouse can be connected via Bluetooth, RF or USB. Once connected, their mobile phone will switch to Samsung DeX mode, providing an Android-based Desktop interface.

The interface supports the typical keyboard and mouse gestures, such as drag and drop, scrolling and shortcuts, and allows you to efficiently multitask and move applications around in resizeable windows.





The DeX Home screen shows all the open apps in a taskbar, another common Desktop UI feature. Incoming messages and calls will pop-up in the bottom right corner of the screen.

Some of Samsung's own applications are optimized for the DeX environment too. For example, the native Samsung mobile browser, Samsung Internet, will let. users launch the desktop version of websites in multiple windows simultaneously. MyFiles allows convenient dragging and dropping of files and documents from one folder to another. Gallery makes it easier to browse images with a mouse and keyboard and Samsung e-mail facilitates digital correspondence by letting users easily attach files by dragging and dropping them to the email composer.

Third party developers have also optimized their apps and services for DeX, including Microsoft which will optimize Word, Excel and PowerPoint for the DeX interface. The DeX Station contains an HDMI port, two USB 2.0 ports, an Ethernet port, USB type-C power-in and a cooling fan. Of course, the dock will also rapidly charge the device while its in DeX mode.