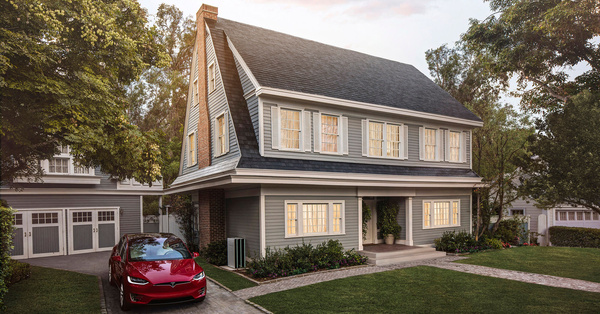 Tesla has begun accepting pre-orders for its Solar Roof products ahead of installations that will begin in the United States in the summer.
Solar Roof aims to keep the typical appearance of a roof from street level. It combines both solar and non-solar tiles, based on your electricity consumptions estimates. A home that also charges an electric car frequently will require more solar tiles, for example.
It will generate electricity from sunlight during the day and with an integrated Powerwall, can make the energy available at night time too.
According to Tesla, the typical homeowner can expect to pay $21.85 per square foot for Solar Roof, which is lower than an estimate of $24.50 cited by Consumer Reports to be cost competitive.
The cost of a Solar Roof can be offset when taking the prolonged reduction of electricity bills into account.
However, since there are a wide variety of circumstances to take into account, Tesla has created a
Solar Roof calculator
that lets homeowners estimate the upfront price of Solar Roof, as well as the value of the energy it can generate for their home.
The calculator takes roof size, the average local price of electricity, and how much sunlight a neighborhood receives annually into account.
Pre-orders can be made today at the
Tesla Solar Roof
website. Installations will begin in the summer in the U.S., and outside the U.S. starting next year.