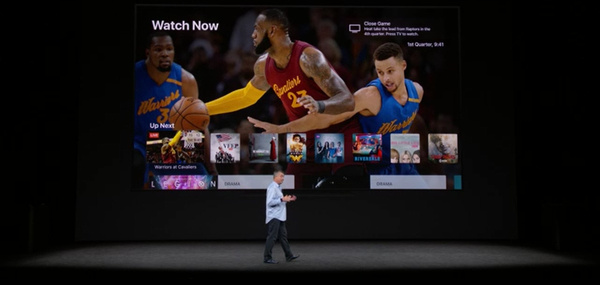 Apple has unveiled an upgraded Apple TV with support for 4K video and high dynamic range (HDR) at the Steve Jobs Theater.
To play 4K with HDR, the Apple TV 4K upgrades to an A10X processor and a new version of the tvOS operating system. On the content side, Apple has partnered with the big boys in Hollywood, including Lionsgate, 20th Century Fox, Warner Bros, Sony, Universal and Paramount to bring many more movies in 4K to iTunes.

To answer the important question, the price of 4K movies is the same as others and even better, content that was purchased previously will be upgraded to 4K HDR (if available) automatically!

For streamers, Netflix and Amazon Prime TV 4K content is coming soon, as it has been available on other platforms for some time now.

For international users, Apple announced that the TV app will be available in more countries soon also, and will feature more live Sports and News content.

Apple TV 4K will also add more gaming abilities and content.

For pricing, Apple TV 4K will cost $179 with 32GB of storage, or $199 for 64GB. The non-4K unit will cost $149 (with 32GB storage). Orders can be made from Sept 15, and the Apple TV 4K will be available from Sept 22.