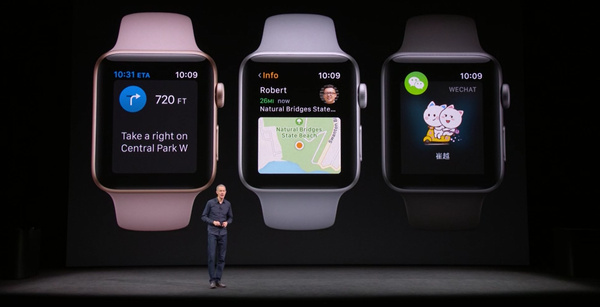 Apple has launched an upgraded version of its Watch device at the Steve Jobs Theater today, untethering the device from iPhone.
The firm made a big deal out of the fact that the Watch is now the number one selling watch in the world, and that it claims a 97% customer satisfaction rate. Additionally, the Watch is also the most used heart monitor in the world, and Apple wants to exploit that fact.
Above all else, the best thing about the Watch upgrade is it no longer has to be tethered to an iPhone when you are on the road. Instead, the Watch has built in LTE support, connecting directly to your cellular network. This will make Watch more attractive to those who don't want to switch smartphone OS.
For health-conscious users of Watch, Apple is making several notable software changes, including a completely redesigned workout app. The user's heart rate is now also displayed right on the watch face, and can notify you if it detects an elevated heart rate when you are not active.
Additionally, it can also detect arrhythmia, when your heart beat is not regular. Working with the FDA and Stanford researchers, Apple is also producing an "Apple Heart Study".
For music lovers, Apple Watch now links with Apple Music to stream over 40 million songs right over LTE.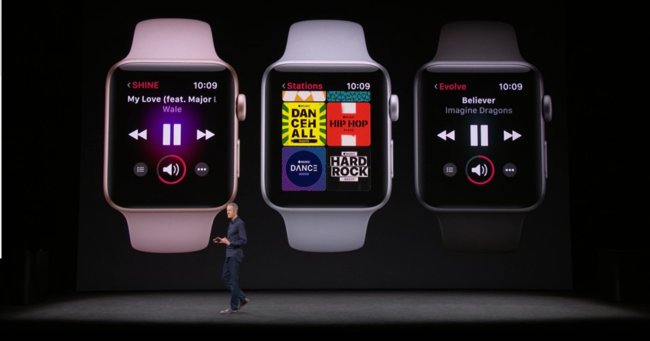 Under the hood, a new processor boosts performance by 70 percent while a custom wireless chip called W2 increases efficiency for Bluetooth and WiFi considerable. For LTE, the display itself acts as an antenna and the device uses an electronic SIM, that is a fraction of the size of a micro SIM card. This innovation means the case for Series 3 is the same size as the case for Series 2.
Orders for Watch Series 3 can be placed from Sept 15, and it will be available Sept 22. Without cellular, it will cost from $329, while adding cellular bumps the cost to $399. The previous generation, Series 2, is still available with a new base price of $249.