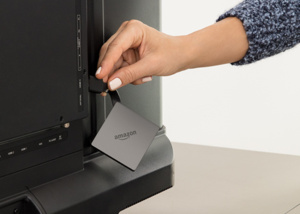 Amazon's launch event yesterday gave us plenty of new options when it comes to Echo smart speakers but Amazon didn't forget the TV crowd. Amazon's new Fire TV 4K is a direct answer to Apple TV 4K, and Google's Chromecast Ultra before that.
Fire TV 4K is exactly what you'd expect. It turns your TV into a streaming TV with exclusive support for Amazon's own services as well as the other popular streaming video and music services. As name suggests, it now supports 4K UHD resolution (3840 by 2160) just like its competitors.

While still technically still a dongle, the new Fire TV 4K isn't exactly a stick anymore. The square box is connected to a TV with a short cable like Chromecast, albeit the box itself is a little larger than Google's streaming device.

As its competitors, Fire TV 4K also supports HDR content, and you can also watch video content that's been recorded at 60 FPS. However, unlike Apple TV 4K and Chromecast Ultra, Fire TV 4K doesn't support Dolby Vision HDR experience and relies solely on HDR10 support. On the other hand there's support for Dolby Atmos surround sound that is not available on Apple TV 4K, yet.



Amazon Fire TV 4K costs $69 (like Chromecast Ultra), while Apple TV 4K is a whopping $179.