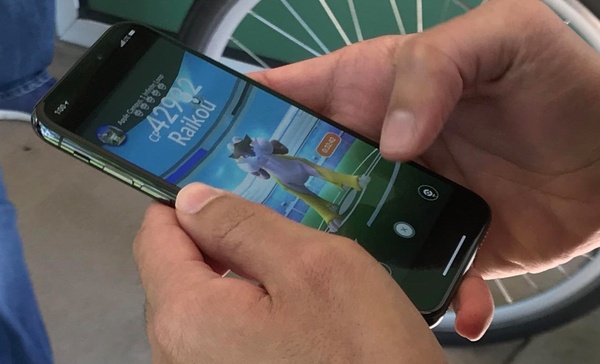 There's still almost a month until Apple's hyped iPhone X will hit the Apple Stores – and Town Squares, *sigh*. Since there's been an unprecedented amount of time between the unveiling and release of iPhone X, people have been paying close attention to all the pictures posted online.
One of them is a picture showing an iPhone X users playing Pokémon GO on the streets of perhaps Cupertino. Likely held by an Apple employee, this iPhone X revealed
on Reddit
shows how not all screen estate is in use, contrary to the way you'd probably want it to be.
Obviously its just a pre-production model, and only one app, but it does spark an interesting discussion about what type of concerns people have with the new aspect ratio.
Of course iPhone X's screen is the first time iOS device has a 2.17:1 aspect ratio – close to 2:1 aspect ratio in many Android phones – which means that apps need to be customized for it if they want to use all that extra space. As this picture shows at least Pokémon GO, one of the more popular mobile games, does not take advantage of this and there's a visible forehead and chin.
Essentially iPhone X's beautiful screen doesn't have any advantage over traditional iPhone screens in this respect. Of course it is also the Apple's first OLED display which brings advantages beyond size.
Some people have also complained about the little white stripe in the bottom marking the gesture controls. It does seem a little awkward, especially since the letterboxing. However, at least the 'ears' are not shown, if you dislike them, since the UI doesn't reach the notch at the top.
Do you see a problem with the aspect ratio? Will app developers likely improve the apps enough in time for the launch? Do you perhaps like the notch and the ears?