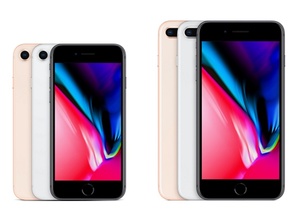 Apple's iPhone 8 and iPhone 8 Plus have been available for over a month but sales might have not been what Apple wanted. According to Customer Intelligence Research Partners, a consumer research company, Apple's new iPhones are far behind last years models.
CIRP told
Wall Street Journal
that iPhone 8 and 8 Plus have accounted for only 16% of iPhone sales in the quarter ending in September. That is a huge difference to last years 44% accounted by iPhone 7 and iPhone 7 Plus.
This time around things were different, though, so there's a lot that can change after the iPhone X in released next week. However, iPhone X supply is rumored to be very limited so that is probably not going to change percentages in favor of Apple.
What will change is that Apple's marginals increase tremendously with the more expensive device. It might also make customers waiting for the iPhone X switch to iPhone 8 and 8 Plus after the long waiting times are exposed.
According to analysts many customers are currently waiting for the iPhone X. How many of them are in the end willing to pay the rather hefty price, starting at $999, and possibly wait weeks or even months for the device remains to be seen.
The pre-orders for iPhone X have started today and it will be officially available on Apple Stores across the world next Friday, November 3.