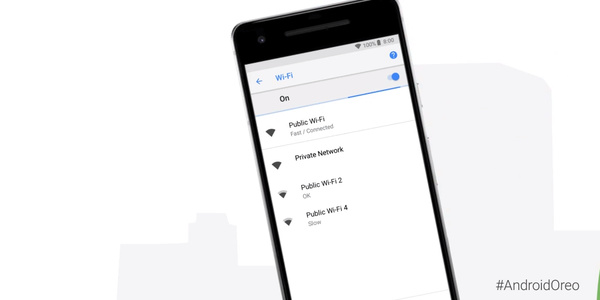 Devices running the latest Android Oreo release will now give you an idea of the speed of a WiFi network before you connect to it.
Public WiFi is offered by local governments and private businesses for their customers everywhere now. However, the performance of public WiFi varies widely and sometimes public WiFi can be worse than even a poor cellular connection. Sometimes you might find yourself trying multiple public networks to find one that has enough speed for your task (streaming from youtube etc.)
Oreo will make this task a little bit easier. When it scans for nearby WiFi, it also will assess what kind of speed you can expect from it. It won't tell you a detailed result of its test, but will instead describe the speed as "slow" if its under 1Mbps, "OK" if it between 1Mbps and 1.5Mbps, "fast" if it is between 5Mbps and 20Mbps and "very fast" if it exceeds 20Mbps.
The change is rolling out now with Android Oreo 8.1.
Public Wi-Fi can be spotty. For the first time, #AndroidOreo 8.1 lets you take out the guesswork & see the speed of networks before you hit connect. Rolling out now: https://t.co/lSzvCFgNk7 pic.twitter.com/60EmoPxUX4

-- Android (@Android) January 22, 2018