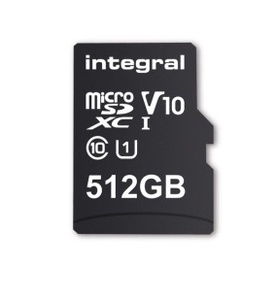 Integral Memory will ship the largest capacity microSD card commercially available in February, with its new 512GB microSDXC V10.
That would be one hell of a storage boost for a device, granted it supports microSDXC.

"The need to provide extended memory for smartphones, tablets and a growing range of other mobile devices such as action cams and drones has been answered." said James Danton, marketing manager, Integral Memory. "As a company, we are very proud to be the first to achieve the 512GB capacity milestone in microSDXC, worldwide."

Press information about the new card cites tests with a range of smartphones showing speed of up to 80MB/s, which is certainly not the fastest you could find but should be adequate for most media tasks like recording 4K video and such.

It will be available next month but there was no information given on how much one of these babies will cost.