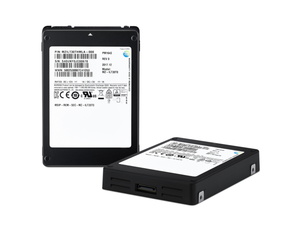 Samsung breaks the storage capacity record for a single solid state drive with a new 30.72TB drive for enterprise solutions.
It had previously broken the world record in 2016 with a 15.36TB SSD. The new PM1643 drive is built on Samsung's latest V-NAND technology with 64-layer, 3-bit 512-gigabit (Gb) chips, delivering twice the capacity and performance of the previous 15.3TB line-up.

The PM1643 comprises 32 of the new 1TB NAND flash packages, each comprised of 16 stacked layers of 512Gb V-NAND chips, packed into the 2.5-inch frame.

Based on a 12Gb/s SAS interface, the new PM1643 drive features random read and write speeds of up to 400,000 IOPS and 50,000 IOPS, and sequential read and write speeds of up to 2,100MB/s and 1,700 MB/s, respectively.

"With our launch of the 30.72TB SSD, we are once again shattering the enterprise storage capacity barrier, and in the process, opening up new horizons for ultra-high capacity storage systems worldwide," said Jaesoo Han, executive vice president, Memory Sales & Marketing Team at Samsung Electronics.



"Samsung will continue to move aggressively in meeting the shifting demand toward SSDs over 10TB and at the same time, accelerating adoption of our trail-blazing storage solutions in a new age of enterprise systems."