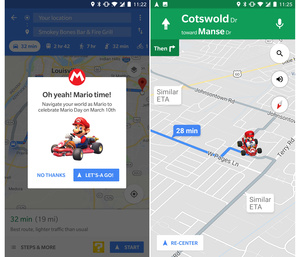 If you didn't know, it's Mario Day today! Yes, that plummer from dozens of Nintendo games is being celebrated today.
You might ask why? And the answer is not because he was born today, or anything like that at all. It all comes from the date itself, Mar 10. MAR10 is
celebrated by Nintendo
in a variety of ways, including rewards and deals, but they're not the only ones to have noted the mustache-wielding Italian.
In fact Google is one of the companies that has decided, for a reason or another, to include a bit of a easter egg in one of their apps. Both Android and iOS versions of Google Maps have been updated with a Mario Kart function.
When navigating on Google Maps there a new Mario-like question mark below via which you can enable what is called Mario Time. After enabling this your app changes the boring navigation arrow into a Mario Kart, driven by the famous plumber himself.
Google has also revealed that if you don't have nowhere to go on the actual Mario Day, no worries. You'll be able to use the feature for the next week.
This isn't of course the first easter egg from Google, not even on Maps. Couple years back on April Fools' Day they added a function which turned Google Maps into a game of Pac-Man.