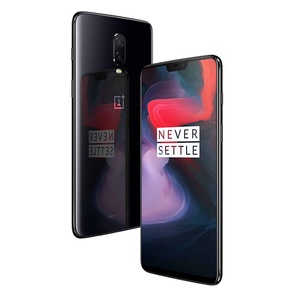 The Chinese smartphone manufacturer OnePlus got its notoriety from years back when it vowed to destroy the flagship smartphones of its time with half the price. The company has since matured and dropped the flagship killer slogan but one could argue it really still is the same beast.
This week the company announced OnePlus 6, the latest of its impressive lineup of Android phones.
The device is the first glass sandwich design, which is water resistant but not IP certified, since the company's one-off cheaper model, OnePlus X, and it is definitely one of the more important changes in it. Obviously the system-on-chip has also been updated, and there are other slighter changes.
OnePlus 6 rocks the Snapdragon 845, 6 or 8 gigabytes of RAM, up to 256 GB of storage space, a dual camera setup, and a 6.28-inch Full HD+ resolution Optic AMOLED display covering 84 percent of the front panel which leaves you with a notch at the top, as you might expect.
The battery is the same 3300 milliamp unit from the previous model, and it supports the same super fast Dash Charging. Unlike rumors had it, there is no wireless charging despite the glass back.
The dual camera setup in the back is similar to OnePlus 5T but offers now larger sensors and thus larger pixel which translates to improved low light performance. Improving low light photography, as well as videos, OnePlus has also added an OIS. The megapixel counts are still 16 and 20.
The front-facing camera is a 16 megapixel shooter that will get a portrait mode in a future software update.
Even though the company also announced new Bullets Wireless heaphones, according to OnePlus the users wanted a 3,5 mm headphone jack in the phone, and that is what they got.
OnePlus 6 starts at $529 (6+64GB) as the Mirror Black option starting on the 22nd. You can also buy a matte Midnight Black or the shinier Mirror Black for $579 (8+128GB). The matte Black is the only one available as the 8+256GB option at $629. On May 5th OnePlus will bring a Silk White version (8+128GB) for sale for the same price at the black version with the same storage option.