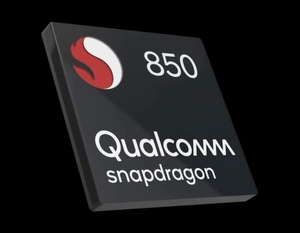 Qualcomm unveiled the new Snapdragon 850 chip at Computex this week, designed specifically for Windows PCs.
The Snapdragon 850 is about 30 percent faster than the similar Snapdragon 835. The main difference between the 10nm design chips is the former pushes the clock speed up to 2.96GHz, taking advantage of the extra space and better heat dissipation of PC and laptop devices compared to mobile devices.

Samsung Electronics will release a 2-in-1 always-on, always-connected Windows device using the new Snapdragon 850 chip. The aim is for laptop devices to have similar battery life and connectivity to smartphones and tablets. According to Qualcomm, the power-efficient architecture of the Snapdragon 850 can provide up to 25 hours of continuous usage or multi-day battery life under "normal usage conditions."

The 850 boasts 3X AI performance over the previous generation, as well as up to 1.2 gigabits per second LTE connectivity speeds.

"Building on the portfolio of Always On, Always Connected PCs established over the past year, we are thrilled to work with Samsung to help offer consumers true mobility combined with the productivity and entertainment features of Windows 10," said Alex Katouzian, senior vice president and general manager, mobile business unit, Qualcomm Technologies, Inc.



"To truly expand this category, our work with mobile leaders like Samsung is important to help us deliver the next generation of Always On, Always Connected PCs to consumers."