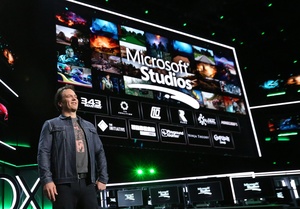 According to a report, Microsoft is aiming to release its next generation Xbox hardware in 2020.
At Microsoft's E3 press conference this past weekend, the Redmond-based firm confirmed that it is already developing new "Xbox" hardware. Whether this meant another console in the Xbox One family, or something next generation, was not revealed of course. Given that Microsoft just released the Xbox One X last year, rumors swirled that the new Xbox hardware is actually next generation Xbox hardware.
According to sources cited by Thurrott, that's exactly what the new hardware is. It reports that Microsoft is developing its next generation Xbox hardware, codenamed Scarlett, and that it will be released in 2020. Moreover, the sources describe Scarltt as a "family of devices."
As you would expect, no technical details or any other clues were shared. Microsoft launched its previous Xbox generations in the month of November, suggesting that November 2020 is the likely target date. This would mark eight years between the launch of the Xbox One (November 2013) and the next generation hardware. Xbox One also launched eight years after the November 2005 debut of the Xbox 360.
Source:
Thurrott
via:
Engadget